Specifications HKA100X Thin section bearing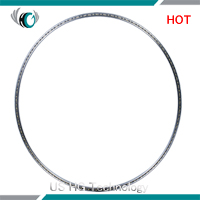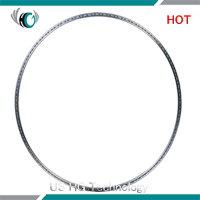 Introduction :
Type: Thin Section Four-point Contact Ball Bearings, also called X Type
Structure: there are two centers of raceway radius on each side of the raceway, both of which are deviated from the center line of balls. This structure forms a four-point contact between the balls and the raceway of X-type bearings.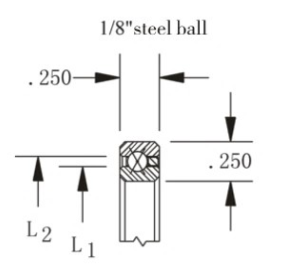 | | | | | | | | |
| --- | --- | --- | --- | --- | --- | --- | --- |
| Type | ID | OD | L1 | L2 | weight | qty | contact |
| HKA100XP0 | 10 inch | 10.5 inch | 10.186 inch | 10.314 inch | 0.227kg | 30 | Send Inquiry  |
Loads: able to withstand radial load, axial load and moment load.
Application: UAV equipment, shipborne radar, vehicle radar, servo motor, medical equipment, 3D printer, robot, photoelectric tracking, etc.
Quality Assurance: Our manufacturer is ISO 9001:2008 certified. Other than our own quality control, and we also work with different famous international third parties, such as SGS and ASIA etc. in order to insure our bearing qualities based on customer requirements.
As a professional research firm and experienced manufacturer, we can also carry special research projects in bearing or OEM production either bearing or its components. Please don't hesitate to contact us at [email protected] if you have special demands or question.
Type: Thin Section Radial Contact Ball Bearings, also called C Type, Thin Section Deep Groove Ball Bearing
Structure: A-type angular contact ball bearing has an enough radial clearance to form a contact angle to bear the axial load. The contact angle for the standard bearing is 30°. The raceway and ball are in an angular contact form, the center of raceway radius is deviated from the centerline of balls and symmetrically distributed around the center line.
Thin Section Radial Contact Ball Bearings,

Structure:  Thin Section Radial Contact Ball Bearings, also called C Type, Thin Section Deep Groove Ball Bearing. A-type angular contact ball bearing has an enough radial clearance to form a contact angle to bear the axial load. The contact angle for the standard bearing is 30°. The raceway and ball are in an angular contact form, the center of raceway radius is deviated from the centerline of balls and symmetrically distributed around the center line.
Loads: able to withstand axial load in single direction